Features
WHAT'S IN THE APP
VIEW PRODUCT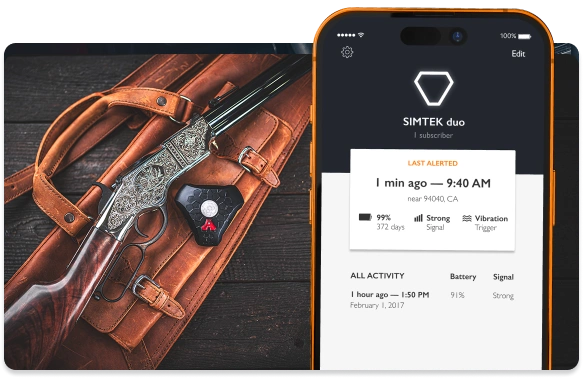 View Your Alerts:

Trigger Type, Battery Level, Signal Strength & Timestamps

The Simtek app displays all alert activities at a glance, showing timestamps, battery & signal levels, and which of the three sensors was triggered.
Temperature & Humidity
For Each Alert, Including
Approximate Location
Tap an alert in the activity log or on main card to show approximate location, temperature/humidity, and more details.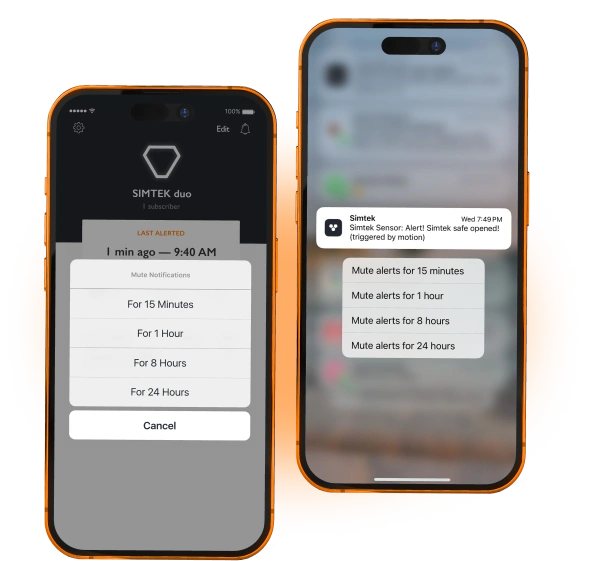 Mute Alerts For Up To 24h
Mute your sensor for up to 24h by tapping the bell icon in the Simtek app, or long-pressing the alert notification and choosing a mute time. Muted alerts are logged but won't notify you.
Customize Your Alerts
Personalize your device with a unique name like "Bob's Garage Safe" and create a customized alert message such as "Safe Is BREACHED!"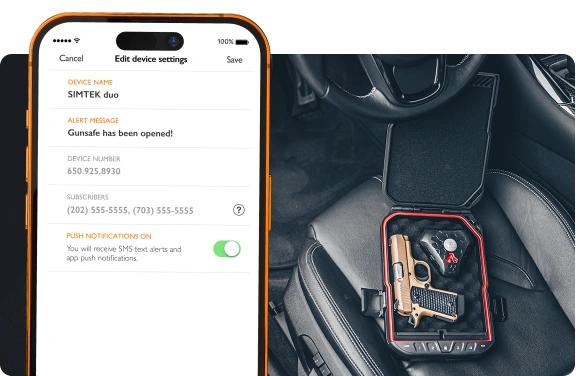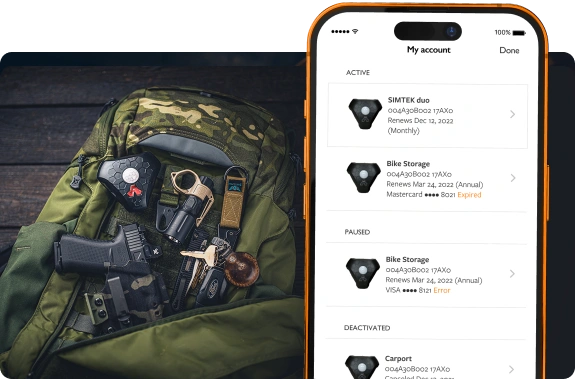 Manage Subscription
Data Plan
Tap on My Account in the Simtek gear icon to manage your dataplans. Update your billing information and address and cancel your data plan right through the app.
Easy-Scan
QR Code Setup
Low Battery
Notifications
Automatic
Carrier Switching
Unlimited Alerts,
Unlimited Subscribers
Onboard Switches Turn Off Light or Vibration
Common Questions:
How does StealthALERT work?
Alerts your phone via sms and push notifications when light, motion or acceleration is triggered.
Why doesn't StealthALERT use WIFI?
It's too easy to defeat and sabotage a WIFI sensor. Simply unplug the WIFI router, or cut the electrical power to the house and your defenses are down and it's useless. In addition to weather related power outages or internet provider issues.
What sensors does StealthALERT use?
3-IN-1 sensors: Infrared Motion, Light, Acceleration. Additionally equipped with Temperature and Humidity.
What's unique about StealthALERT?
Designed to be the most reliable sensor on the market, it has anti-sabotage features like two antennas, one of which is onboard and will automatically switch if the external wired antenna is unplugged or cut. You won't find a more reliable product.
Where can StealthALERT be used?
StealthALERT uses a global roaming simcard, automatically finds and connects to all major networks anywhere in the world.